Happy Friday everyone! So, today's post is for those of you that love How I Met Your Mother. If you're not a fan, then have a great weekend, and I'll see you back here on Monday. Okay, now that we're back to Super HIMYM Fans only, I'm going to tell you about the epiphany I had yesterday: I am very much Marshall Eriksen.
There are a bunch of reasons why I believe this, but here are five of them:
1. He makes up songs.
Marshall is known for singing about…well…everything. Those of you who know me are well aware that I do the same thing. Especially about Linus. Oh, have you not heard my Meghan Trainor parody entitled "All About that Face"?
2. He loves him some good food.
Marshall and chicken wings is basically me and pizza. Especially Giordano's…sigh… Oh and at my wedding, people shouldn't try to talk to me while I'm eating my slice of chocolate stout cake. It's best for everyone.
3. He keeps up on celebrity gossip.
Come on, you KNOW that when you're at the doctor's office or getting your hair cut, you TOTALLY read "Stars Are Just Like Us" in US Weekly.
4. He loves gossip in general.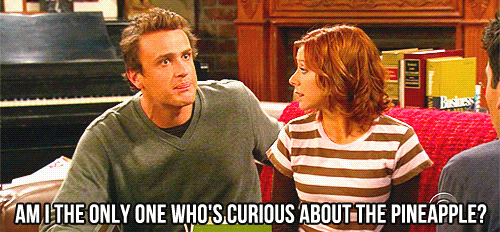 Okay, I don't want to love gossip, but damn, it's just so frickin' inviting! I know that if one of my friends was out all night and woke up with a stranger (and a pineapple) that I'd be damn curious, too!
5. He knows true love.
He may not be starry-eyed Ted, but Marshall knows that Lily is his true love. That's how I feel about C, and when I think of our future, I hope it's just like Marshall and Lily's.
Linking up with these ladies!