Well, I promised that there would be a big announcement yesterday…and then my day got insanely busy so here it is today! I'm engaged!!!!!
Yes, Boyfriend is no longer "Boyfriend." I debated on what to call him, and since he'd still like a little bit of privacy, I told him I'd call him by his first initial, "C."
I've now been engaged for more than a week. C did such a great job with the proposal–just perfect, simple, but SO us.
Last week, we were in Florida and had already spent a day and a half enjoying our fun in the sun. We knew that we wanted to make some yummy meals that week, so I volunteered to go to the store, pick up a pizza for that night's dinner and then head back. After an ordeal with trying to finding an independent pizza joint in the area, I settled for a Pizza Hut and headed back to the house.
Once I got back, C was sitting in our bedroom and said that he had just started an episode of It's Always Sunny in Philadelphia, but then he asked if I was ready for an evening walk on the beach. "But the pizza will get cold!" I protested. True story: I will forgo almost anything for hot pizza. C hesitated for a moment and then said, "You're right–we should eat."
We ate and chatted. At one point, he mentioned something that happened when he and Linus were at the beach and I thought, "Oh man, they went back to the beach without me?" But then I carried on.
After we ate, we headed across the street towards the beach, and C said, "Oh wait, I saw something cool over here earlier." He led me to the neighbor's porch, which overlooks the beach. I jokingly pointed out a stupid sign that the neighbor had posted and then started looking on the floor of the porch to try and find whatever it was that he thought "was cool."
Then C smiled at me and said, "Look at that" and pointed towards the beach…
I gasped and then looked at him, said "YES!" and threw my arms around him! Then he opened a clam shell and inside was a ring made of origami.
We ordered my ring a few days later, but that's for another post. In the meantime, we're on cloud nine and are so so so happy!
I'm glad to FINALLY link up with Macy and Nikki for Wedding Wednesday!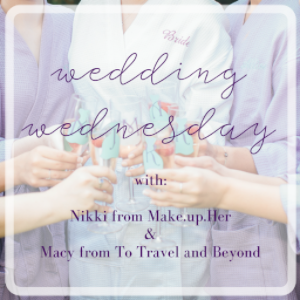 And the winner of the giveaway is Colleen Boudreau! Congratulations!!