Happy Friday everyone! Since the holidays are coming up, I'm going to try to avoid stress by watching some episodes of my favorite shows. Today, I'll write about some of my favorite episodes of one of the greatest shows of all time: Scrubs. Linking up with some great ladies for Five on Friday!
"My Half-Acre"
This is by far my favorite episode. First of all, Turk, Ted, and the Janitor are in an "air band" together. Why on EARTH would four grown men form an air band? It doesn't matter because it's AMAZING. Also, this is the first of two episodes with Mandy Moore, and there's just something so lovable about her. Oh, and you find out that JD has Les Mis trading cards.
My Best Friend's Baby's Baby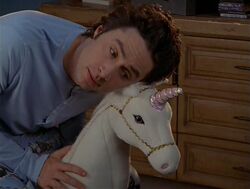 I love this episode. Carla and Turk are having their baby, and JD and Kim are deciding what to do about her pregnancy, and Dr. Cox and Jordan's son has no filter, which is phenomenal.
My Way Home
The first time this episode aired, I missed it because I was on the phone. The next day, my friend yelled at me for missing it because he said it was one of the best episodes ever. He was right. It has the perfect mix of magic and heart…and a Wizard of Oz theme.
My Musical
I was really skeptical of this episode at first, as I am when any mainstream television show decides to do a musical episode. But it was awesome. I still sing the "You're Going to Be Okay" song in my head from time to time.
My Unicorn
You know how my most favorite show of all time is Friends? Well when a guest star on Scrubs was Chandler's from Friends, it made the episode SO much better!
Do you watch Scrubs? Do you have a favorite episode?