When we went on our hospital tour on Sunday, one of the best things that I found out about our delivery room is that the television has internet. You know what that means? Netflix! So on the way home, I told C that we should make a list of our favorite episodes of our favorite shows to have on in the background as I go through labor. It'll be a great distraction, and hopefully bring about some laughs throughout the day.
Here are some of the episodes that will definitely make the list:
"Pawnee Rangers" from Parks and Rec
Otherwise known as the first "Treat Yo Self" episode! I could watch this episode over and over again, just to see how uncomfortable Ben is with "relaxing" and how insane Tom and Donna are when they really treat themselves.
"The One With the Embryos" from Friends
While Phoebe trying to get pregnant with her brother's baby (yep) is a big part of the episode, the larger part of the episode is the contest between Monica, Rachel, Chandler and Joey over who knows whom the best. Viewers learn a LOT about the weird quirks of these characters, including that the Lord of the Dance "scares the bejeezus" out of Chandler and that their TV Guide is delivered to Chanandler Bong.
"The Delivery" from The Office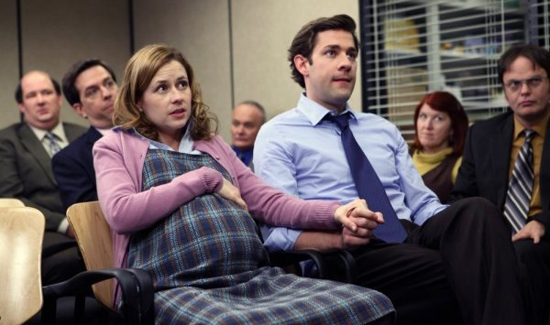 Hey, if I'm in labor, I should probably commiserate with Pam Halpert as she gives birth to Cecelia. And the lead up to her going to the hospital is just hilarious–I love Jim Halpert as a nervous dad. And just Jim Halpert in general 😉
Any recommendations for other episodes for this list?