It's Monday, y'all!
Today I'm recounting a day of my life. Each day is a little different, depending on plans and such, but a lot of most workdays is redundantly similar. However, since Friday including baby things, I felt it would be a good one to document!
6:45 AM–Rise and Shine!

Typically, I'm up by 6:30, but since I had a doctor's appointment on this morning, I got an extra 15 minutes of sleep.
7:22 AM–On My Way!

After taking a shower, getting dressed and throwing some chicken and stock in the crockpot for that night's dinner, I'm in the car and on the road!
7:37 AM–Bookin' It

After getting gas, I start listening to The Secrets of My Life by Caitlyn Jenner. Not too shabby so far.
7:46 AM–Smoothie Time!

Whenever I have a baby doctor appointment, I try to treat myself to an Angel Food Smoothie (without the added sugar) from Smoothie King.
8:38 AM–Time to Hear the Baby!

My appointment was for 9:15, but I always arrive early, just in case. The doctor was really happy with my progress, even though I had gained 5 pounds in 2 weeks (although some of that has to be the baby, right?). But my blood pressure was good, the baby's heartbeat was strong, and she even kicked the doctor lol! I was able to make all of my doctor's appointments through delivery–eek, it's so soon!!!
10:15 AM–Back to Work
I arrive at work just in time to get on a conference call that I thought I would have to hand over to my coworker. This meant sitting on the phone for an hour until they finally got to my topic. Sigh.
11:45 AM–Lunch Time
I'm lucky enough to have a cafe on the campus of my work, which has delicious food. Today I scarfed down a veggie burger and a cup of Maryland crab soup. If only walking over there in the ridiculous heat had been better…
12:30-4:30 PM–Work Work Work
6:15 PM–Finally Home
I finally arrive home after being stuck in a TON of traffic. Luckily, all I needed to do to dinner was add chiles and chili powder, and the crockpot chicken taco recipe from Mix and Match Mama was complete! While C and I chowed down on tacos, we watched some Parks and Rec, including the episode that featured this moment: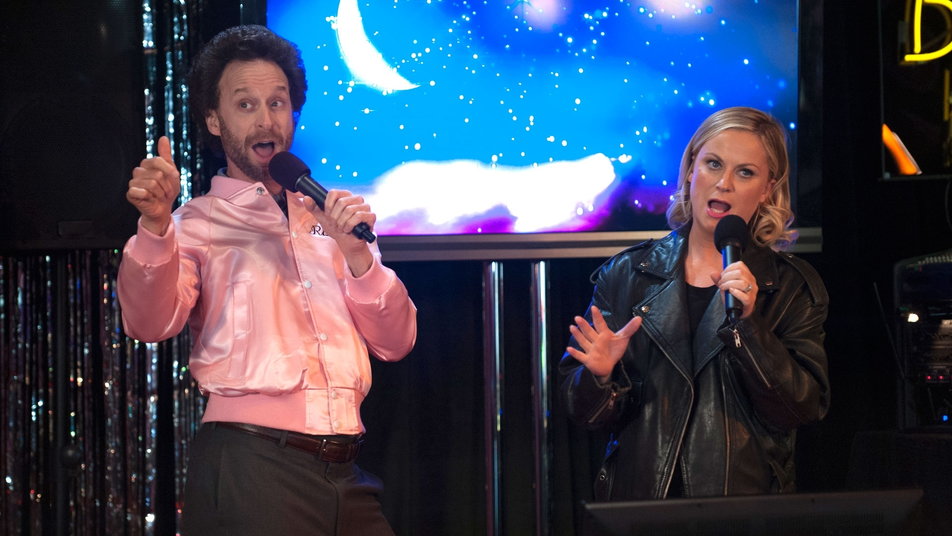 7:30–Playtime for the Pups

We took the puppies outside for some playtime! Linus loved playing with his ring, but Emmy was must more interested in rolling around in some grass.
8:00–Chillin with Animal Crossing
C and I spent the rest of the evening in an incredibly exciting way–playing Animal Crossing next to each other on the couch.
10:30–Bedtime
After a long time, it was finally time for me to hit the hay.
Linking up with Julia and Liz for Day in the Life!