Happy Friday all! This weekend, C is camping, so I'll be spending some extra quality time with my two favorite pups, Linus and Emmy. And thinking of them made me start pondering the dogs of my youth, both real and fictional. So for today's Five on Friday, I've reviewing five of my favorite fictional dogs!
Clifford the Big Red Dog
With the exception of a Labrador that we owned for a short while, most of our dogs growing up were very small. So by contrast, the thought of an enormous dog like Clifford was just incredible! Plus, any dog that can help get a little girl and her friends out of trouble was number one in my book.
Spot
Another childhood favorite, Spot from the book series by Eric Hill was a mischievous little pup. He would hide from his mother or sometimes be on the search for other objects. Either way, I would get to uncover flaps in the pop-up books, which endeared me even more to the character.
Toto
A mean old lady can't keep Toto from his Dorothy in The Wizard of Oz! That sly little terrier hopped right out of that basket and ran all the way home. I'd like to believe that Emmy would do the same if she were taken from me…although she's not the best jumper…
Comet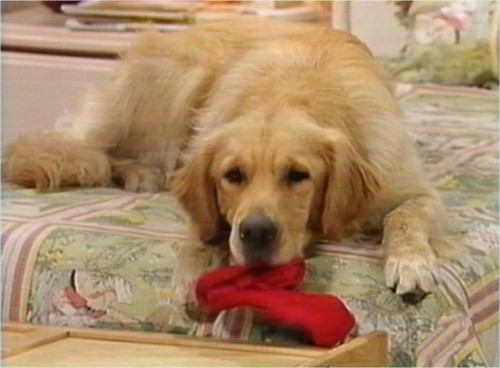 One of my favorite episodes of Full House is the one where Comet and his brothers and sisters are born in the Tanner household. And it always cracked me up that Michelle chooses the puppy that loves Uncle Jesse's bed (reminds me of Linus SO much).
Trusty
There's nothing like some true words of wisdom, and sometimes I wish that I knew what dogs were thinking so that they could pass on that wisdom, much like Trusty from Lady and the Tramp. "As my grandpappy, Ole Reliable used to say…"
Linking up with these ladies for Five on Friday!